Working with a Direct Selling Business
Since 2014, we have been working with Cambridge Weight Plan (rebranded in 2018 as The 1:1 Diet). The benefits of collaboration between a direct selling business and a vinyl house are not immediately obvious, but the last six years have formed a deeper relationship.
In many ways, this was a happy accident collaboration, resulting from a local (self employed) consultant of the Plan looking for some marketing material. At the time, Cambridge Weight Plan (CWP) did not have a nationwide network of independent consultants and consistent branding was a challenge they were still addressing.  They could see that as their network expanded, they would need a coherent business plan and consistent branding of marketing items within that.  CWP did not want to directly purchase products themselves but they needed to ensure that the marketing goods purchased by their consultants were properly branded.
It started with us making branded rear car decals, that were personalised to include the consultant's details.  Over the years we started offering banners, car magnets and business cards.
And so our working relationship began.
We attended the national and regional conventions to speak to consultants about how these products would help them grow their business. We worked through three minor changes to the logo.  Our product range expanded to include clothing, pavement signs, and stickers.
Until this time, consultants only knew about us from word of mouth or from their initial marketing pack.  So, with the full blessing of Cambridge Weight Plan, we set up a dedicated website for the selling of branded products.  Hidden from search engines, consultants could access it from their Consultant Portal.  This ensured that only registered consultants were purchasing branded products. 
In November 2018, Cambridge Weight Plan re-branded fully, becoming The 1:1 Diet.  This was a challenging time for us.  We were not given the new brand guidelines until after the big launch, when thousands of consultants were wanting the new logo.  The responsibility was on us to convert our products to the new brand guidelines and submit them for acceptance with the Head Office marketing team.  This took some time to do but it was worth the effort because the new look is strong and unified.  
In the meantime, a number of unauthorised suppliers popped up. They didn't have to wait for their test items to get approval from HW so there were a lot of products, mostly clothing, being purchased by consultants which didn't reflect the brand in more than a vague nod to the new colours.  Over the months, Head Office would close these down and discourage consultants from wearing their wrongly branded products.  You can imagine what a large and ongoing job this was.
Under the new branding, a lot more consultants were recruited.  The business model changed and consultants were encouraged to open temporary or permanent clinics or shops as well as work their businesses on a mobile basis.  This meant that we were being asked for a larger range of products. So roller banners and then wall stickers (both from vinyl and FabriStick®) were added to our range.
To date, we have also set up a closed Facebook group for consultants so that they can read marketing tips on each product we offer, and share the things that worked for them.  We have set up 'packages' for new consultants etc which have proved popular.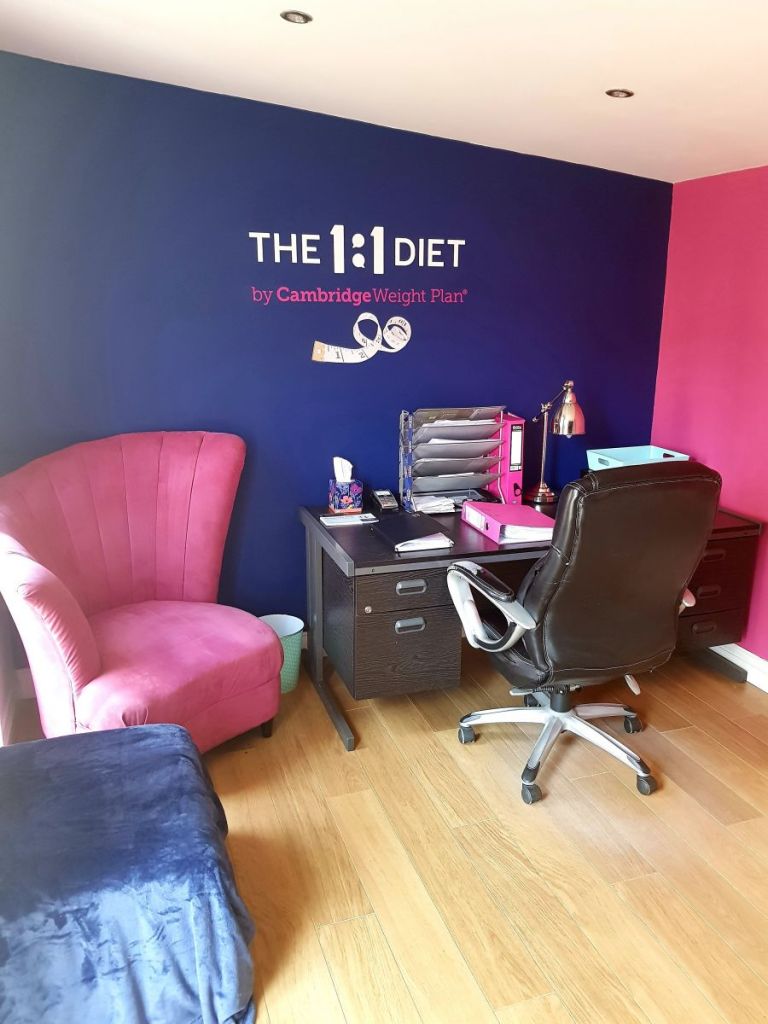 The 1:1 Diet HQ want their self employed consultants to be successful.  The consultants want to be successful.  And we want to help them to grow their businesses.  It really is a three way win!
Do you recruit self employed agents/consultants for your business?  We would love to talk to you about producing personalised marketing products for your team.